Get To Work & Stay At Work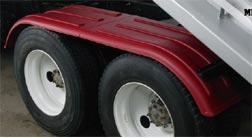 Raneys Truck Parts has the all the Heavy Duty Truck parts you're looking for. In business in the Trucking Industry since 1957, Raney's has been providing unparalleled customer service and products so our clients can keep on trucking. Shop online from the convenience of your own home (or truck). Don't worry about not finding what you want, if it exists, we have it! We're the World's Online Leader in Truck Chrome and we pride ourselves on being able to ship anywhere.  We carry truck chrome and accessories, too. If you're wanting to clean up your rig–or deck it out in a style all your own–we can help! We also have truck service if you're in Ocala, Florida. We are always here to help you get on the road and stay on the road.  Stop in and see us if your in Florida!  Our website for ordering is www.raneystruckparts.com. And of course, if you ever need any assistance please call us at 1-888-888-7990. Our customer service and sales team are the best in the industry.
Minimizer The Work Horse Fenders
Minimizer The Work Horse Poly Tandem Axle Fenders (4000 series)
. If you're looking for fenders but not wanting a lot a maintenance, you've come to the right place! These Fenders are all business. Backed by Minimizer's Lifetime Warranty, these fire red fenders are simply unstoppable. The benefits of these fenders include:
Never Needs Paint – Color is molded throughout so chips, scuffs and scratches can't be seen.
Never Fades – UV inhibitors are built into the material.
Never Rusts – Material is 100% polyethylene.
Never Stress Cracks – This unique material is not affected by road vibration.
Never Needs Polishing – Simply wipe down with soap and water.
This set consists of 1 pair of Red Poly Tandem Axle Fenders that's designed to fit a Tandem axle tractor or Trailer. Mounting Kit option includes A Black Pastic Mounting Kit for 1 pair of Fenders. The Total weight of this fender kit is less than 42 pounds! If you're in the market for high-quality, affordable Heavy Duty Truck Fenders that look great, check out Minimizer The Work Horse Fenders! If you have any more question, don't hesitate to reach out to us at 1-888-888-7990
---